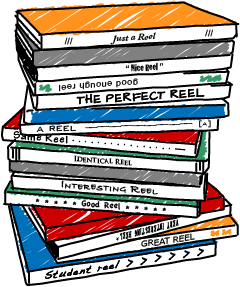 Doesn't exist. This November I was lucky enough to attend CTN Animation eXpo with many other animation addicts. Other than the many talented artists there, that were sharing their artwork with everyone, there were a number of studios going over people's reels and sometime even give feedback.
I was helping to man the iAnimate.net booth and had a look at a number of animation reels. People are always looking for feedback on their reels, and it was fun and intimidating to see so many talented people looking for work. It took me back to when I was fresh out of school looking for work and was trying to show my reel to as many people as I could to get an idea of where I stood. The times have changed though, much like I mentioned in my previous post, today's expectations from graduating students are much higher than ever before.
Students are always searching for how to make their reel the "perfect reel", the one that will get them a job anywhere or somewhere. The problem is that, today, studios can be even more picky than ever before. With such talent out there, they don't need to just grab someone that is good at one little thing but is fantastic at it all or has a reel that may contain similar work to a project that they are working on now.
At CTN a few people mentioned conflicting remarks from different studios, the thing they didn't understand is that every studio has it's own needs based on their current projects. If the project calls for quadruped you'll hear comments like you need more mechanics or creature work, other with female or kids in leading roles might get comments like you need more feminine or acting pieces. These are all fair comments and it might well confuse the students out there trying to get their big break.
It's important to have a well balanced reel that shows that you can do it all, good mechanics (biped and quadruped) as well as a few acting pieces that show your range. But most important is that you put your best work on you reel. Only your best work. It's better to have a short reel with your best work than a long one with filler shots that will hurt you. Some say: put your best shot first and your second last. I never understood that, why not put all the best first and blow them away.
Most important is that you put your best work on you reel. ONLY your best work. Tweet it
I will say this, while I saw many students that can move stuff around, that's all they did. It's sad to say that most of the reels looked identical, and I saw reels from quite a few schools. It's not fair but today standards require student reels get judged at the same level as industry pros. The thing that was missing in 99% of reels was characters moving uniquely – so every character moved in their own way revealing something about them. Most of the shots just had characters all moving the same, which makes it even worse when the characters all look alike. So you end up with two characters who look alike and move alike and then you are left thinking ok… yeah, it moves, but it's not alive. I saw characters that won't stop moving, and those that moved with no thought or purpose. Shots are starting to look much more manufactured and there seems to be a lack of thought to why characters are doing what they are doing and what makes them unique and why they move the way they do. Do you remember WWW+GOAL? – Implement it!
My suggestion to students is stop trying to target a studio, focus more on yourselves and making something unique that will make it stand out because it will truly bring your character to life. I found that the people that do the best are those that focused on making something personal and real. Genuine work will always end up grabbing people's attention and make those artists a commodity to the studios.
Good luck to everyone out there!
Additional Reading...