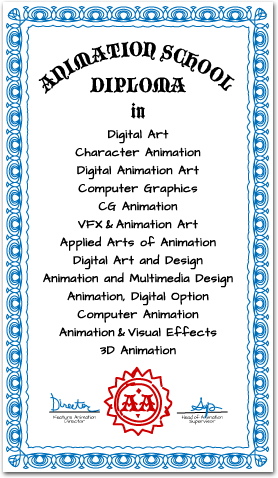 During my last class review at iAnimate my students showed their frustration with their progression and how slow it is. It struck me as odd how much pressure is put on animation students of today. There are a few online schools (I myself teach at the above mentioned one) and the many CG/Animation colleges and universities out there. There are a lot of promises out there, and an expectation that when you complete or graduate from these you'll be a qualified feature animator.
Long ago, when I went to school for traditional animation, it was expected you could/would spend 3 to 5 years either in the clean-up department, then work up to the breakdown inbetweener ranks, before become a fully fledged feature animator. So you would have had time to get comfortable with the animation workflow and pipeline, over time you would have developed your drawing and understanding of timing and spacing. In short, you would have eased into the animator position with a feeling of confidence and experience.
Today you're expected to graduate, get a job as an animator, and produce the same quality and quantity as any industry professional. Hell, if you take a look at the student reel of some of the best feature animators out there pre-CG, it would look amateure compared with what students are outputting today.
It's hard and frustrating to watch students who are doing amazing work to get down on themselves because they haven't hit it big right away. I would say that those, that it takes them longer to achieve their goal, appreciate and cherish it more than those who have no comparison. Animation is one of the hardest thing out there to do well, it's an art form and like any art form it's open to interpretation. There are two quotes that I have come across in the past two years, that together sum up what animation is for me and the hardships that we all try to overcome.
The first one is by Bill Tytla at Walt Disney Studios:
There is no particular mystery in animation… It's really very simple, and like anything that is simple, it is about the hardest thing in the world to do
The second was spoken my way by a co-worker:
Hard work will beat talent
when talent refuses to work.
These sum up what we face everyday. My point of view is:
Don't get down, keep pushing and practicing. Don't let yourself get down or complacent, push and keep pushing until you get where you want to go! For some it's easy, for others it takes a little work. Doesn't matter how you get there as long as you get there!
P.S. I am adding this right after the events at DD Florida. I was really saddened by what happened out there, not only because it's a good thing to have more than a handful of feature studios, but I have friends down there that need to uproot their families and move in search of a new job. The thing that continues to frustrate me, and relates very much to the above post is this – we work hard to try and achieve our dreams of working in this field, it's not easy and requires a lot of time and hard work. You would hope that once you make it all you would have to do is focus on the work and not have to worry about all the stuff that occurs on the exec level. I have no idea what went down at DD Florida and this rant isn't directed at that. I have lived through a studio closing down. At the time they thought they were going to be the next big thing, with 4 different hubs spread over the globe, then, one day – thank you and goodbye. It never gets easy to watch people that are in the movie biz take the art form we love and care for, and try and make a quick buck on it every which way without any thought of a long term goal. Unfortunately, there isn't much of a solution, at least I haven't found it yet (will let you know when I do). Lets just hope for better days.
Additional Reading...